Summary
Current Position: Governor
Affiliation: Democrat
Candidate: 2022 Governor
Former Positions: Lt. Governor from 2015 – 2021; Mayor from 2007 – 2015
Featured Quote: 
I'm proud to share that RI is the 1st state to have all colleges and universities require #COVID19 vaccinations for students returning to campus this fall. Thank you to our institutions for taking proactive steps to keep our communities safe. #Vaccinate401@higheredri @RIHEALTH
Featured Video: 
Q&A with RI Lt. Governor Daniel McKee
News
PROVIDENCE — Afghan refugees are welcome in Rhode Island, Governor Daniel J. McKee told President Biden in a letter Tuesday.
"Like many people across the world, Rhode Islanders have been deeply troubled and saddened by the tragedy that continues to unfold in Afghanistan," McKee wrote. "I am writing to let you know that Rhode Island stands ready to welcome Afghan allies and families eager to seek solace and safety in our state — a state that was settled by refugees."
McKee, a Democrat, noted that Roger Williams founded Rhode Island based on the principles of religious freedom and tolerance.
Twitter
About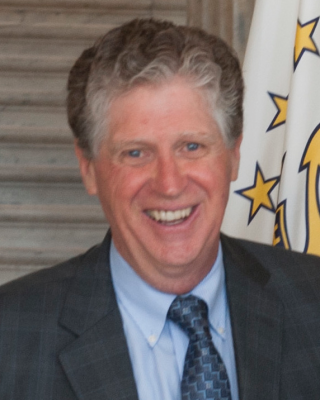 Source: Government page
Born in Cumberland, Dan is the son of James and Helen Willa McKee. His parents taught him the importance of working hard and giving back to the community. In particular, Dan is still inspired by his father's role in starting the local Boys & Girls Club in their town.
Dan graduated from Cumberland High School, where he played basketball and met his wife Susan. He holds a bachelor's degree in political science and education from Assumption College. He earned a master's degree in public administration from Harvard University's Kennedy School of Government. He has owned and operated successful small businesses in the Blackstone Valley for three decades.
Dan and Susan have two children, Matthew and Kara. Both children went to public school in Cumberland. For many years, Dan was a youth basketball coach, where he mentored young athletes and won two AAU state championships.
In 2000, McKee was elected Mayor of Cumberland after serving for eight years on the Town Council. He served 12 years as mayor, leaving the office in 2014 when he was elected Lieutenant Governor.
When Dan took office, Cumberland had a "junk bond" credit rating and its finances were close to being taken over by the state. When he left office, Cumberland had a budget surplus and a AA bond rating. He also turned around two failing elementary schools and fixed a high school that was falling apart. Additionally, Dan created the state's only Mayor's Office for Children, Youth, and Learning, which has supported thousands of Cumberland students.
Elected Lieutenant Governor in 2014, McKee used the office to stand up for working Rhode Islanders and support small businesses. Together with 26 mayors, Dan sued Big Pharma to hold them accountable for their role in the opiate crisis. He took on the giant electric companies and lowered costs for ratepayers. When the COVID-19 pandemic hit, Dan organized a grassroots small business movement ensuring millions of dollars in federal C.A.R.E.S. Act funds were allocated to support the small business community.
Office
Contact
Email:
Web
Government Page, Campaign Site, Twitter, Wikipedia
Politics
Source: none
Campaign Finance
Voting Record
VoteSmart – National Key Votes & Ratings
Search
Wikipedia Entry
Daniel James McKee (born June 16, 1951) is an American businessman and politician serving as the 76th governor of Rhode Island since March 2021. A member of the Democratic Party, he served as Rhode Island's 69th lieutenant governor from 2015 to 2021.
Born in Cumberland, Rhode Island, McKee received his undergraduate degree from Assumption College and his Master's degree from Harvard Kennedy School. He served on the Cumberland town council from 1992 to 1998 and as mayor of Cumberland twice, from 2000 to 2004 and from 2006 until 2014.[1] McKee was elected lieutenant governor in 2014. When Governor Gina Raimondo resigned to become President Joe Biden's secretary of commerce in 2021, McKee ascended to governor.[2]
Early life
McKee's family has owned and operated small businesses in northern Rhode Island for over 100 years. He is a practicing Roman Catholic.
After graduating from Cumberland High School, McKee received a Bachelor of Arts in education and political science from Assumption College in Worcester, Massachusetts in 1973. He earned a Master of Public Administration from the Harvard Kennedy School in 2005.[3]
Early career
McKee was an officer of McKee Brothers, a heating, air conditioning, and home heating oil delivery business his grandfather founded.[4] He also ran a health and fitness business for more than 30 years.[4]
During his time on the Cumberland, Rhode Island Town Council (1992–1998), McKee was also a basketball coach, coaching groups of boys and girls at all levels, culminating in two State AAU Basketball Champions in 1998 and 2000.
McKee served six terms as Cumberland's mayor. He worked with state and federal officials in the aftermath of Cumberland's historic spring flooding to minimize the damage and steered Cumberland through Rhode Island's unprecedented economic downturn.
In 2008, McKee worked with mayors across the state to pass a law allowing the creation of new, regional, mayor-governed and highly autonomous public schools known as "Mayoral Academies." In 2009 and 2010, he again helped organize mayors and education advocates to enact a new education funding policy.
McKee has been a member of the board of directors of the Boys and Girls Club of Cumberland-Lincoln for over 25 years, serving as past president of the executive board and chair of the endowment committee.[5]
Lieutenant governor of Rhode Island
In 2013, McKee announced his candidacy for Rhode island lieutenant governor, defeating Secretary of State of Rhode Island Ralph Mollis and State Representative Frank Ferri in the Democratic primary.[6] In the general election, he defeated Republican Catherine Terry Taylor, a legislative aide and speechwriter for U.S. Senators John Chafee and Lincoln Chafee,[7] with 54.3% of the vote. He was reelected in 2018.[8]
On January 7, 2021, President-elect Joe Biden selected Rhode Island Governor Gina Raimondo as Secretary of Commerce. Since McKee was next in line of succession, he would become governor once Raimondo was confirmed by the United States Senate. She was confirmed on March 2, 2021, and submitted her resignation as governor shortly after.[9]
In February 2021, McKee began to form a COVID-19 advisory board.[10] He had criticized the Raimondo administration over a slow COVID-19 vaccine rollout.[11]
Governor of Rhode Island
McKee was sworn in as the 76th governor of Rhode Island on March 2, 2021.[12] On February 22, 2022, McKee announced that he was running for reelection to a full four-year term.[13] He won the September 13 Democratic primary, defeating four challengers in a close race. He faces Republican nominee Ashley Kalus in the general election.[14]
COVID-19
McKee said his main priority was to advance COVID-19 vaccine rollout and contain the COVID-19 pandemic in Rhode Island.[15] By July 4, Rhode Island had fully vaccinated over 633,000 people, representing 70% of its eligible adult population.[16] It was the fifth state to reach that milestone.[16] Also in July, McKee terminated the state mask mandate but extended the COVID-19 emergency declaration to August 6, citing the prevalence of the delta variant.[17]
Electoral history
Mayor of Cumberland
2006 Cumberland mayoral election[22][23]

Primary election
Party
Candidate
Votes
%
Democratic
Dan McKee
4,331
62.33
Democratic
David Iwuc (incumbent)
2,666
37.67
Total votes
4,849
100
General election
Democratic
Dan McKee
10,612
100.00
Total votes
10,612
100
2008 Cumberland mayoral election[24][25]

Primary election
Party
Candidate
Votes
%
Democratic
Dan McKee (incumbent)
3,871
64.40
Democratic
David Iwuc
2,140
35.60
Total votes
6,011
100
General election
Democratic
Dan McKee (incumbent)
12,650
100.00
Total votes
12,650
100
Lieutenant Governor
2018 Rhode Island lieutenant gubernatorial election[30][31]

Primary election
Party
Candidate
Votes
%
Democratic
Dan McKee (incumbent)
57,983
51.09
Democratic
Aaron Regunberg
55,517
48.91
Total votes
133,500
100
General election
Democratic
Dan McKee (incumbent)
226,528
61.87
Republican
Paul Pence
106,505
29.09
Moderate
Joel Hellmann
11,332
3.10
Independent
Jonathan J. Riccitelli
9,866
2.70
Independent
Ross K. McCurdy
9,408
2.57
Write-in
2,513
0.69
Total votes
366,152
100
References
External links