Summary
Current Position: US Senator since 1997
Affiliation: Democrat
Former Positions: US Representative from 1991 – 1997; State Senator from 1985 – 1991
Other Positions:  
Chair, Committee on Armed Services
Featured Quote: 
The right to vote is a cornerstone of our democracy. We must protect #votingrights & stop partisan gerrymandering. I support the #ForThePeople Act to protect voting access for all Americans, regardless of party or where they're from.
Featured Video: 
Sen. Jack Reed Full Interview: Biden Made 'The Best Of Many Poor Choices'
Source: Campaign page
News
Rhode Island's congressional delegation joined labor leaders Monday to call for the passage of the Infrastructure Investment and Jobs Act, which would significantly benefit the state.
The bill, which would deliver billions of dollars' worth of upgrades over the next five years, passed the U.S. Senate last month and now heads to the U.S. House of Representatives.
"An investment in our infrastructure is an investment in our economy and in our working families," Gov. Dan McKee said. "This bill will create jobs, continue to address our roads and bridges, and improve our quality of life. Workers in Rhode Island need this bill to pass – all Rhode Islanders need this bill to pass."
Sen. Jack Reed said the $1 trillion infrastructure plan would provide Rhode Island not only with about $1.7 billion in highway and bridge funding, but also $277 million for mass-transit, $45 million for airports and $23 million for new electric vehicle charging stations.
Twitter
About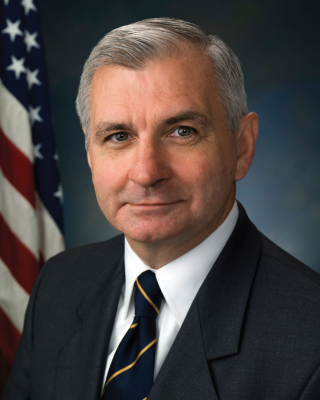 Source: Government page
Senator Reed works every day to help make the federal government more efficient, effective, and responsive to the people of Rhode Island.  He has a proven record of working on a bipartisan basis to help solve problems and achieve results.  Senator Reed was part of the bipartisan working group that drafted the Coronavirus Aid, Relief, and Economic Security (CARES) Act and successfully led efforts to create the $150 billion Coronavirus Relief Fund to help states combat COVID-19.  Senator Reed also helped include a $1.25 billion small state minimum to ensure Rhode Island could effectively respond to the pandemic.
As one of just eight Senators in U.S. history to graduate from West Point, Time magazine noted: "Reed is a serious, intellectually honest veteran and an expert on defense issues in the Senate," and the New York Times describes him as "a quiet deal-maker respected by colleagues in both parties."
A senior member of the powerful Appropriations Committee, which controls the funding of the federal government, Senator Reed has been described by the Boston Globe as "a relentless advocate for his home state."  He works tirelessly to direct federal funding to the Ocean State to create jobs, strengthen its infrastructure, and support economic and community development initiatives.
He has supported clean water projects to ensure both a healthy economy and a healthy environment.  And he authored a trio of laws to improve children's health care and ensure our youngest patients get the help they need when they need it: the Childhood Cancer Survivorship, Treatment, Access, and Research (STAR) Act to advance pediatric cancer research and child-focused cancer treatments, improve childhood cancer surveillance, and provide resources for survivors and those impacted by childhood cancer; the Trauma Care Systems Planning and Development Act to establish critical care networks nationwide so that more paramedics and first responders can get trauma care patients to the right doctor at the right time; and the Better Pharmaceuticals and Devices for Children Act (BPDCA) to help ensure drugs and medical devices are specifically tested, labeled, and proven to be safe and effective for children.
Senator Reed has led efforts to strengthen Rhode Island's transportation network – from expanding the runway at T.F. Green Airport to increasing capacity at our ports – in order to bring more jobs and businesses to Rhode Island and better link our state to the global economy.
Reed also serves as Chairman of the Armed Services Committee, where he has played a pivotal role in safeguarding our nation.  In 2002, he voted against giving President George W. Bush the authority to go to war in Iraq because it was an ill-planned diversion from the war on terrorism.  But he has always worked across the aisle to support our troops, and was instrumental in convincing Defense Secretary Robert Gates to continue serving in the Obama Administration and implement the plan to withdraw forces from Iraq.
Rhode Island's defense industry is critical to national security and our state's economy, and Senator Reed has been a leader at the federal level in growing Rhode Island's defense sector and bringing resources to the state.  Thanks to his efforts on the Armed Services and Appropriations Committees, coupled with Rhode Island's talented defense workers, the U.S. Navy plans to begin building the next generation of submarines in the Ocean State, creating thousands of new, good-paying jobs in Rhode Island in the coming years.
As a senior member of the Banking, Housing, and Urban Affairs Committee, Reed authored several key pieces of the historic Wall Street reform law and has been nationally recognized for his dedication to protecting U.S. consumers.  When taxpayers were forced to invest in banks to save the economy from total collapse, Jack Reed wrote the law ensuring that taxpayers would share in the rewards when the banks recovered.  As a direct result of Reed's provision, taxpayers have earned nearly $10 billion in additional dividends – money that would have otherwise been kept by the rescued banks.
He also helped create the Consumer Financial Protection Bureau (CFPB) to give American families the tools to fight unfair and abusive financial products and services, as well as a new Office of Financial Research (OFR) that will help provide early warnings to regulators about future financial problems.
Additionally, he authored laws to create a new affordable rental housing trust fund, improve consumer disclosures on mortgages, and address the needs of middle-class families who have struggled with the fallout from the housing crisis.
Senator Reed has been a leading voice on college affordability and student loan debt issues.  He helped write laws preventing interest rate increases on new loans to millions of college students, and fought efforts to increase student borrowing costs.  He recently proposed a Student Loan Borrowers Bill of Rights and has offered legislation to reform disclosure and servicing standards for both federal and private student loans.
And to help get our country back to full employment, he wrote a work-sharing law that provides an estimated $500 million for business-state partnerships to help prevent layoffs.  Nationwide, Reed's law has been credited with saving more than 130,000 jobs since 2012, including over 1,000 in Rhode Island.
Today, Jack Reed continues to utilize the lessons he learned growing up in Cranston, which were deepened in the Army and tested in the halls of Congress, to stand up and speak out for the hard-working families who are the heart and soul of our country.
Voting Record
Caucuses 
ghhgggg
Offices
Experience
Education
Bachelor
West Point
M.P.P
Harvard University
J.D.
Harvard Law School
Contact
Email:
Offices
CRANSTON
1000 Chapel View Boulevard
Suite 290
Cranston, RI 02920-5602
Phone: (401) 943-3100
Fax: (401) 464-6837
PROVIDENCE
U.S. District Courthouse
One Exchange Terrace
Suite 408
Providence, RI 02903-1744
Phone: (401) 528-5200
Fax: (202) 224-4680
WASHINGTON, DC
728 Hart Senate Office Building
Washington, DC 20510
Phone: (202) 224-4642
Fax: (202) 224-4680
Web
Government Page, Wikipedia, Twitter, YouTube, Facebook, Wikipedia
Politics
Source: none
Campaign Finance
Voting Record
VoteSmart – National Key Votes & Ratings
Search
Wikipedia Entry
John Francis Reed GOIH (born November 12, 1949) is an American lawyer and politician serving as the senior United States senator from Rhode Island, a seat he was first elected to in 1996. A member of the Democratic Party, he was the U.S. representative for Rhode Island's 2nd congressional district from 1991 to 1997. Reed graduated from the United States Military Academy and Harvard University, serving in the U.S. Army as an active officer from 1971 to 1979. He is the dean of Rhode Island's congressional delegation.
Early life, education and career
Reed was born in Cranston, Rhode Island, the son of Mary Louise (née Monahan) and Joseph Anthony Reed.[1] Reed graduated from La Salle Academy and the United States Military Academy at West Point, where he received a Bachelor of Science degree in 1971. After graduating, he spent several years in active duty military service. Reed earned the Ranger Tab and was a paratrooper. He served as a paratrooper in the 2nd Battalion, 504th Parachute Infantry Regiment, 82nd Airborne Division where he was a Platoon Leader, Company Commander and Battalion Staff Officer.
Reed attended the John F. Kennedy School of Government at Harvard University, where he received a Master of Public Policy. He returned to West Point in 1978 as an associate professor in the Department of Social Sciences.[2] He left active duty in 1979 after earning the rank of captain. He served in the United States Army Reserve until 1991, and retired as a major. After leaving active duty, Reed enrolled in Harvard Law School, where he became a member of the Board of Student Advisers. In 1982, he graduated with his Juris Doctor and worked as an associate at the Washington, D.C. office of law firm of Sutherland Asbill & Brennan. Afterward, he returned to Rhode Island and worked for the Providence law firm Edwards and Angell until 1990.
Reed was elected as a state senator in 1984 and served three terms.[3]
Reed married professional Senate staffer Julia Hart in a Roman Catholic ceremony in the Catholic chapel on the United States Military Academy campus on April 16, 2005. On January 5, 2007, their daughter, Emily, was born.
U.S. House of Representatives
In 1990, Reed was elected to the United States House of Representatives, receiving 59% of the vote in the general election.[3] For the next six years, he focused on education and health care.
U.S. Senate
Elections
1996
When Senator Claiborne Pell, the longest-serving senator in Rhode Island's history and the 13th longest-serving senator in US history, announced his retirement in 1996, Reed declared his candidacy. Reed won the Democratic primary with 86% of the vote and beat the Republican nominee, Rhode Island General Treasurer Nancy Mayer, 63% to 35%.
2002
Reed ran for a second term. He was unopposed in the Democratic primary and his Republican opponent was Robert Tingle, a casino pit manager and the unsuccessful Republican nominee for the state's 2nd congressional district in 2000. Reed won by 78% to 22%.
2008
Reed ran for a third term. He won the Democratic primary with 87% of the vote. In the general election, he faced a rematch with Tingle, again winning in a landslide, 73% to 27%.
2014
Reed ran for a fourth term. Polling showed him leading prospective Republican opponents by margins of between 29% and 65%. Unopposed in the Democratic primary, Reed faced former Congressional nominee and former Rhode Island Republican Party Chairman Mark Zaccaria in the general election. Reed won in another landslide, 71% to 29%.
2020
Reed ran for a fifth term. He won the Democratic primary unopposed. In the general election, he faced investment consultant Allen R. Waters and won in yet another landslide, 67% to 33%.
Political future
In 2008, Reed was mentioned as a potential vice presidential running mate for Barack Obama.[4][5] On July 14, 2008, Reed announced that he was "not interested" in becoming Obama's running mate.[6]
Reed has consistently been mentioned as a possible Secretary of Defense.[7][8] In late 2010, he turned down Obama's offer to succeed Robert Gates as Secretary of Defense. The position was ultimately filled by Leon Panetta.[9] After Obama was reelected in 2012 and Panetta announced his decision to retire, Reed was again mentioned as a possible nominee for the position, as well as for Director of the Central Intelligence Agency. Once again, he denied interest in either position.[10][11][12]
When Panetta's successor Chuck Hagel announced his resignation in December 2014, Reed was again said to be on Obama's shortlist. Despite the Republican takeover of the Senate in the 2014 elections, it was said that Reed's confirmation would be a "foregone conclusion".[13][14] He again denied interest,[15] with a spokesman saying, "Senator Reed loves his job and wants to continue serving the people of Rhode Island in the United States Senate. He has made it very clear that he does not wish to be considered for Secretary of Defense or any other cabinet position. He just asked the people of Rhode Island to hire him for another six-year term and plans on honoring that commitment."[14]
On November 24, 2014, Ted Nesi of WPRI-TV gave some reasons that Reed might be uninterested in cabinet positions, citing his "safe seat", his status as one of the most popular politicians in the state, his fondness for working in the Senate and his passion for housing policy. He concluded that "no matter how many times Reed's aides privately groan about another flareup of defense secretary speculation, they surely appreciate that each recurrence is a sign of the senator's positive reputation in Washington and Obama's esteem for him."[16]
Committee assignments
Caucus memberships
Legislation sponsored
The following is an incomplete list of legislation that Reed has sponsored:
Political positions
Since his election to Congress, Reed has consistently voted in a similar manner to other New England Democrats, holding generally liberal positions on social and economic issues. He has voted with his party 94.7% of the time.[18]
Abortion
Reed strongly supports abortion rights, and has rejected proposals to limit late-term abortion, ban such procedures from occurring on military installations, and deny minors the right to cross state lines to obtain abortions.[19]
Civil rights
Reed supports affirmative action. He has voted to expand such policies and to set aside money for women and minorities from the highway fund. He also supported LGBTQ rights, voting against a proposed constitutional amendment to ban gay marriage and in favor of measures that prevent job discrimination and hate crimes against LGBTQ people.[19]
Economy and jobs
Reed has generally supported fair trade policies over similar ones advocating free trade. He voted against renewing presidential authority to "fast-track" normalized trade relations. Reed opposed CAFTA and similar free trade proposals for Chile, Singapore, Peru, and Oman, but voted in favor of normalizing trade relations with China. He has also been a strong supporter of unionizing workers, and has criticized government and business interference with these groups. Reed supports increasing the minimum wage and unemployment compensation.[19]
Reed serves on the Senate Banking Committee, which has held hearings into JP Morgan Chase bank's activities. He has accepted campaign contributions from its CEO Jamie Dimon.[20]
Election security
In July 2019, Reed and Minnesota Senator Amy Klobuchar sent a letter to Acting Homeland Security (DHS) Secretary Kevin McAleenan requesting an explanation of the actions the DHS took in response to "unexpected behavior" of voting equipment in Durham County, North Carolina during the 2016 presidential election and writing that it was "critical that we learn as much as we can about the extent of the attacks we faced in 2016, and that these lessons be shared as widely as possible so that our nation is fully prepared for the 2020 elections."[21]
Energy
Reed supports limiting American oil use and expanding alternative energy. He opposes Arctic National Wildlife Refuge drilling and federal subsidies for oil exploration, while favoring a 40% reduction in oil use by 2025 and funding for hydrogen automobiles. Reed has voted to end discussions on Corporate Average Fuel Economy standards, and has been an outspoken proponent of stronger restrictions of mercury use, as well as an end to commercial whaling.[22]
Gun laws
Reed has voted against limiting lawsuits on gun manufacturers and has favored expanding gun control. He voted against loosening background checks at gun shows.[23]
Healthcare
Reed has been an advocate of preventive healthcare. Like many other Democrats, he supports increasing Medicare funding, enrolling more Americans into programs that help the uninsured, allowing prescription drugs to be imported from Canada, and negotiating bulk medication purchases for Medicare in order to lower costs.[19] Reed does not support Medicare for All. Instead, in 2019 he proposed the Choose Medicare Act, which he claims increases "access, competition, and choice."[24]
Immigration
Although he voted for the 1996 Immigration Reform Bill, Reed has generally supported allowing undocumented immigrants and foreign workers to enter the path to citizenship. He supports Guest Worker programs and giving immigrants access to Social Security. He opposed establishing English as the nation's official language and has been critical of the effort to fence the US-Mexican border.[19] He is the author of the Reed Amendment, which permits former U.S. citizens to be denied entry to the country if they are believed to have renounced their citizenship for tax reasons.[25] On February 23, 2010, Reed co-sponsored the DREAM Act, a piece of legislation that would allow undocumented students living in the United States from a very young age to gain legal status.[26]
When asked about voting against Social Security benefits going to illegal immigrants, Reed said that he supported this interim measure and "any such agreement must be fully examined so that it does not adversely impact benefits earned by American citizens."[27]
LGBTQIA rights
In October 2018, Reed was one of 20 senators to sign a letter to Secretary of State Mike Pompeo urging him to reverse the rollback of a policy that granted visas to same-sex partners of LGBTQ diplomats who had unions that were not recognized by their home countries, writing that too many places around the world have seen LGBTQ individuals "subjected to discrimination and unspeakable violence, and receive little or no protection from the law or local authorities", and that the US refusing to let LGBTQ diplomats bring their partners to the US would be tantamount to upholding "the discriminatory policies of many countries around the world."[28]
Veteran affairs
Reed helps veterans enter the Department of Veteran Affairs, ensuring that former servicemen and servicewomen can receive medical care.[19]
War in Iraq
Reed was one of 23 US senators to vote against H.J. Resolution 114, which authorized President George W. Bush to use force against Iraq in 2002.[29] In 2007, he elaborated on his sentiments, saying, "It was a flawed strategy that diverted attention and resources away from hunting down Osama bin Laden's terrorist network." Like David Petraeus, Reed said he believed the real problems in Iraq were political and unrelated to the military.[30]
War in Yemen
In 2018, Reed was one a few Democrats to support U.S. backing of the Saudi-led coalition fighting in Yemen.[31] By 2019 he reversed his position, saying that he wanted to end U.S. support for the coalition.[31] A network of progressive groups, including Demand Progress, Working Families Party, and Chapo Trap House, urged Reed to ensure that the 2020 National Defense Authorization Act withdrew support for the war.[32][33][31]
Nagorno–Karabakh conflict
On October 1, 2020, Reed co-signed a letter to Secretary of State Mike Pompeo that condemned Azerbaijan's offensive operations against the Republic of Artsakh, denounced Turkey's role in the Nagorno-Karabakh conflict and called for an immediate ceasefire.[34] Reed stated that "Armenians have a right to defend themselves when attacked."[35]
War in Afghanistan
Reed supports President Joe Biden's decision to withdraw all U.S. troops from Afghanistan by September 2021. He said that "the president made a difficult, but the best of many poor choices."[36]
Electoral history
United States House of Representatives 2nd district Democratic primary election in Rhode Island, 1990
√ Jack Reed 49.0%
Edward Beard, Sr. 27.4%
Charles Gifford, III 14.7%
Rodney Driver 8.9%
United States House of Representatives 2nd district election in Rhode Island, 1990
√ Jack Reed (D) 59.2%
Gertrude Coxe (R) 40.8%
United States House of Representatives 2nd district Democratic primary election in Rhode Island, 1992
√ Jack Reed (Incumbent) 76.4%
Spencer Dickinson 23.6%
United States House of Representatives 2nd district election in Rhode Island, 1992
√ Jack Reed (D) (Incumbent) 70.7%
James Bell (R) 24.5%
Thomas Ricci (I) 3.3%
John Turnbull (IT) 1.6%
United States House of Representative 2nd district election in Rhode Island, 1994
√ Jack Reed (D) (Incumbent) 68.0%
John Elliot (R) 32.0%
United States Senate Democratic primary election in Rhode Island, 1996
√ Jack Reed 86.1%
Don Gil 13.9%
United States Senate election in Rhode Island, 1996
√ Jack Reed (D) 63.3%
Nancy Mayer (R) 35.0%
Donald W. Lovejoy (I) 1.7%
United States Senate election in Rhode Island, 2003
√ Jack Reed (D) (Incumbent) 78.4%
Robert G. Tingle (R) 21.6%
United States Senate Democratic primary election in Rhode Island, 2007
√ Jack Reed 86.8%
Christopher Young 13.2%
United States Senate election in Rhode Island, 2013
√ Jack Reed (D) (Incumbent) 73.4%
Robert G. Tingle (R) 27.6%
United States Senate election in Rhode Island, 2019
√ Jack Reed (D) (Incumbent) 71%
Mark Zaccaria (R) 29%
Honors
References
Further reading
External links
Articles
Recent Elections
2014
| | | |
| --- | --- | --- |
| Jack Reed (D) | 223,675 | 70.6% |
| Mark Zaccaria (R) | 92,684 | 29.2% |
| TOTAL | 316,359 | |
Source: Ballotpedia
Finances
REED, JOHN F (JACK) has run in 2 races for public office, winning 1 of them. The candidate has raised a total of $6,573,971.
Source: Follow the Money
Committees
Committees
APPROPRIATIONS COMMITTEE
the largest and most powerful committee in the Senate – authors legislation to fund the federal government and its operations. As a senior member of the committee, Senator Reed helps allocate funding for all federal agencies and programs each year.
ARMED SERVICES COMMITTEE
The Armed Services Committee oversees the nation's military structure, overseas operations, and common defense. As a longstanding member of the committee, Senator Reed works hard to ensure that America's fighting men and women have the equipment they need and the benefits they deserve.
BANKING, HOUSING, AND URBAN AFFAIRS COMMITTEE
The Banking, Housing, and Urban Affairs Committee oversees the nation's banking and financial sector, Federal Reserve System, housing and economic policy, insurance markets, and urban development.
As a senior member of the committee, Senator Reed is a relentless advocate for hardworking, middle class families. From foreclosure prevention and consumer protection to student loan assistance and Wall Street reform, he continues to fight for working class Rhode Islanders every day.
SELECT COMMITTEE ON INTELLIGENCE
The Senate Select Committee on Intelligence provides crucial oversight of the nation's intelligence networks and reconnaissance programs. It ensures that our nation has the tools it needs to protect itself, while also affirming that those tools and practices conform with U.S. law and the Constitution.
As Ranking Member of the Armed Services Committee, Senator Reed is granted membership of the Intelligence Committee in an Ex Officio capacity. In that role, he couples the intelligence information with his knowledge of military and national defense issues, working to create strong policy to better protect Rhode Island and the nation.
Voting Record
See: Vote Smart
Issues
Source: Government page
Committees
Committee on Armed Services (Chairman)

Subcommittee on Emerging Threats and Capabilities
Subcommittee on Seapower
Subcommittee on Strategic Forces

Committee on Appropriations

Subcommittee on Commerce, Justice, Science, and Related Agencies
Subcommittee on Defense
Subcommittee on Interior, Environment, and Related Agencies
Subcommittee on Labor, Health and Human Services, Education, and Related Agencies
Subcommittee on Military Construction, Veterans Affairs, and Related Agencies
Subcommittee on Transportation, Housing and Urban Development, and Related Agencies

Committee on Banking, Housing, and Urban Affairs

Subcommittee on Financial Institutions and Consumer Protection
Subcommittee on Housing, Transportation, and Community Development
Subcommittee on Securities, Insurance, and Investment

Select Committee on Intelligence (ex officio)
Legislation
Civil Rights
Senator Reed is dedicated to protecting the rights of Americans and promoting fairness and equal treatment under the law.
Rhode Island has a long, important tradition of tolerance and respect for others.  In keeping with that history, Senator Reed is committed to fighting discrimination, believing that no American should be discriminated against on account of race, gender, religion, identity, or sexual orientation.
When the Supreme Court considered the constitutionality of the discriminatory Defense of Marriage Act (DOMA) that prevented same-sex marriage, Senator Reed signed an amicus brief to the Court defending marriage equality and urging them to strike down the law as unconstitutional.  He also cosponsored the Employment Non-Discrimination Act (ENDA) to prohibit workplace discrimination on the basis of sexual orientation or gender identity.
Senator Reed is a leader in the fight to enact the Paycheck Fairness Act, believing that everyone deserves equal pay for equal work.  He was also an original cosponsor of the Lilly Ledbetter Fair Pay Act, which was signed into law in 2009.  This important legislation helps to fight wage discrimination in the workplace and promote equal pay for equal work, regardless of gender.
Economy
Rhode Island has been hit especially hard by the economic downturn, and Senator Reed is working hard to help save and create jobs to get our economy back on track.  He has led efforts to restore emergency unemployment benefits for jobseekers, and to help make health care, college tuition, and energy more affordable for working families.
As a member of the Appropriations Committee, Senator Reed has directed critical federal funding back to the state to improve our infrastructure, put more people to work, and lay the foundation for future economic growth.  He continues to push for job creation legislation and a reformed tax code that is fairer for low and middle income Americans.
Education
Good schools are essential to our communities and our economy, and Senator Reed is working hard to help all our schools strive and succeed.  This means strengthening education at all levels, through college and beyond.
Parents are children's first teachers, and Senator Reed continues to work to strengthen family engagement in education.  Senator Reed introduced the Family Engagement in Education Act to ensure that schools have the tools they need to effectively partner with parents.  He also fights for child care, school construction, Head Start, and other initiatives so that all children have access to safe, affordable, and high quality care and education.
Senator Reed strongly believes that every student with the drive to attend college should have the opportunity to go.   He has been on the front lines of the fight to ease student loan debt burdens and keep interest rates low.  He is a champion for the Pell Grant and has authored legislation to incentivize states to provide more need-based grant aid for college.
Senator Reed believes the more we do to support effective teaching and effective school leadership, the better results we will get for students.  He has written legislation to improve the preparation, professional development, and mentoring of educators to strengthen teaching and learning in our schools.
Environment
Senator Reed understands that a clean environment is important to our state's economy and Rhode Islanders' health and quality of life.  His conservation efforts have helped clean up and preserve Rhode Island's open spaces, beaches, and waters, so future generations may appreciate the beauty of the state while living healthy, productive lives.
He also recognizes that our environment is under constant stress from a changing climate.  Warming temperatures and weather volatility pose a threat to our environment, economy, and national security, and Senator Reed believes that part of our mitigation strategy must include a national energy policy that limits carbon pollution, focuses on the development of clean, renewable energy sources that create jobs, and holds big polluters accountable.  He also believes that communities must take action to better adapt to a changing climate.  This includes the increase in resilience of our critical infrastructure and emergency preparedness.
Reed has fought efforts to gut the Clean Air Act, rejecting harmful policy riders and deep funding cuts that would weaken the EPA's ability to address climate change and fight pollution that threatens public health.  He has also fought to maintain robust funding for the EPA Clean Water and Drinking Water State Revolving Funds.  These key federal programs help states finance priority water and wastewater construction projects that support jobs, improve water quality, and safeguard public health and the environment.
Reed has also been at the forefront of a national movement to reconnect kids with nature and strengthen environmental education in America's classrooms.  He is the author of the No Child Left Inside Act, which would support outdoor learning activities for Rhode Island's students.
Health Care
Senator Reed has supported efforts to improve the quality of our health care system and reduce costs for consumers, and has been nationally recognized for his work to provide all children with access to affordable health care.  He helped author key provisions of the health insurance reform law, the Affordable Care Act (ACA), to give individuals and families more choice and more control over their health care.
For the first time, insurance companies can no longer deny coverage for a pre-existing condition, charge women higher insurance rates, or put an annual or lifetime cap on how much they will pay for care.  The ACA addresses these unfair practices, gives more people the chance to afford insurance, as well as preserves and strengthens employer-based insurance and federal programs like Medicare.
Reed is also steadfastly committed to preserving and protecting Medicare and Medicaid, improving the health of Rhode Islanders and the quality of the care they receive, and lowering costs without slashing benefits.  Throughout his career, Reed has worked to support Rhode Island's Medicaid and State Children's Health Insurance Program (SCHIP) program, RIte Care, with additional federal funds.  RIte Care provides over 200,000 Rhode Islanders with vital assistance.  Without this program, many would likely go without needed care or make costly trips to emergency rooms.
Reed helped broker a bipartisan agreement that prevented over 600,000 children nationwide from potentially losing their health insurance and boosted SCHIP funding for Rhode Island from $13.2 million to $69.5 million – the highest percentage increase of any state.
He also wrote the Conquer Childhood Cancer Act, a law that expands research programs aimed at improving childhood cancer treatments and research.  And he has earned national recognition for increasing funds for vital immunization and disease prevention programs for children and adults, as well as for his work to expand healthy housing options and prevent lead poisoning.
Reed has delivered federal funds to help Rhode Island combat the opioid epidemic and ensure evidence-based education, treatment, and recovery programs that work.  He wrote the Overdose Prevention Act, which aims to decrease the rate of drug overdose deaths by improving access for first responders to the overdose antidote Naloxone, supporting overdose prevention programs, enhancing surveillance of overdose occurrences, and establishing a coordinated federal plan of action to address the opioid epidemic.
Immigration
Senator Reed believes we must have smart, fair, workable immigration policies that welcome into the United States those who embrace America's ideals and values.  Yet our current immigration system hampers economic growth, weakens our ability to deter illegal traffic into the United States, and fails to meet that standard of fairness.  As such, Senator Reed supports comprehensive immigration reform that fixes our broken federal immigration system and protects our national security.
Throughout his time in the Senate, Senator Reed has voted to move forward with comprehensive immigration reform, including the 2013 Border Security, Economic Opportunity, and Immigration Modernization Act.  This bipartisan bill, which passed the Senate, would reduce our budget deficit and institute broad measures to secure our borders, deter employers from hiring those who come here illegally, and offer a tough but fair pathway to earned citizenship.  Fixing our immigration system also means supporting policies that foster innovation and growth, including a process to retain highly-educated individuals once they graduate from American colleges and universities, rather than taking their skills overseas.
Infrastructure
Our transportation infrastructure is the backbone of our economy, affecting the way we live, work, travel, and do business.  In Rhode Island, Senator Reed has championed critical road, highway, bus, rail, and port projects to help improve its aging infrastructure.
Senator Reed serves as Ranking Member of the Appropriations Subcommittee on Transportation, Housing, and Urban Development, which controls funding for transportation and infrastructure projects.  He has delivered millions of dollars in federal funding to improve Rhode Island's roads, repair its bridges, expand commuter rail service, modernize RIPTA buses, upgrade its ports and airports, and ensure access to high-speed rail.
Rhode Island's roads and bridges need to be repaired to help our economy grow.  That is why Senator Reed has fought to preserve Rhode Island's share of federal funding, which currently totals an average of about $2.75 from the federal government for every $1 that Rhode Island pays into the transportation trust fund.
Safety
As a graduate of West Point and a former infantry officer, Senator Reed appreciates the risks our Armed Forces face every day.  Through his work on the Armed Services and Appropriations Committees, he works tirelessly to ensure that America's fighting men and women have the equipment they need and the benefits they deserve.
Senator Reed firmly believes that the deployment of our men and women in uniform is a decision not to be taken lightly, and that military force represents only one tool in our nation's international affairs arsenal.  That is why he voted against the Iraq War.  He also believes that the United States should be engaged in diplomacy to support our allies and build stronger relationships with emerging nations.  He has focused on arms control and non-proliferation efforts to keep weapons of mass destruction out of the hands of terrorists, and continues to support expanding our international development programs, which greatly contribute to global security and stability.
Reed has also secured billions of dollars in federal funding to modernize our military and bolster Rhode Island's defense industry to create more high-paying jobs and expand opportunities for local businesses.  Rhode Island's 16,000 defense workers make a valuable contribution to our national security and generate more than $1.75 billion in local economic activity each year.  Reed has worked hard to maintain and expand the U.S. Navy's presence in Rhode Island by bringing additional commands, institutions, and projects to Naval Station Newport and Quonset Point.
Social Security
With more than 16 percent of its population over 65, Rhode Island has one of the highest proportions of seniors in the country.  Senator Reed believes that we must meet the unique needs of older Americans and protect the programs that they paid into, like Social Security and Medicare.
Senator Reed is committed to ensuring that Social Security remains strong and viable for millions of Americans.  Today, nearly 220,000 Rhode Islanders receive Social Security benefits.  Throughout his career, Reed has repeatedly voted to keep Social Security on sound financial footing and strongly opposes efforts to privatize the program or use it to pay for new tax breaks.  He successfully fought efforts to use the Chained CPI to determine cost-of-living adjustments, which would have cut Social Security benefits.
Given its structure and design, Social Security cannot contribute to the federal deficit.  Senator Reed has worked to protect the Social Security Trust Fund from being diverted to other programs or used for government spending.  To help stabilize the Trust Fund for future generations, Reed supports including annual income above $117,000 in the wage base for Social Security contributions to help ensure that high-income earners contribute a fair share to the system.  That kind of step points Social Security toward even stronger financial solvency.
Senator Reed strongly believes we must encourage more personal savings and investment for retirement.  However, it should not be at the expense of Social Security, the one program that offers stable, guaranteed income security to the elderly, disabled, widows, and children of deceased or disabled workers.
He also vigorously opposes the Republican plan to dismantle Medicare and Medicaid.  Ending Medicare as we know it would destroy people's ability to pay their bills and save for retirement, college tuition, or anything but the medical insurance they will need as they get older.  In fact, Reed supported the Affordable Care Act (ACA) because it makes key improvements to Medicare that strengthen its long-term solvency and increase benefits.  The ACA also increases access to the Medicaid program, which provides critical long term and nursing home care to seniors.
Reed knows how important it is for retirees to be able to access care.  He is committed to giving better certainty to Medicare patients and providers by ensuring that doctors are fairly reimbursed under Medicare.  At the same time, he also knows how important it is to prevent poor care and fraud under Medicare, and has supported efforts to prevent them and make sure those who commit such crimes are held accountable.
Senator Reed also supports programs that allow older Americans to maintain their independence and contribute to their communities, like home-delivered meals initiatives, the Senior Community Service Employment program, and the Section 202 Housing for the Elderly program, which provides affordable housing options for certain low-income seniors.
Veterans
As a former Army Ranger and company commander, Senator Reed knows what it means to serve, and he understands the dedication of so many men and women who make great sacrifices to defend our nation in uniform.
Reed believes it is imperative to fix the VA health care system so our veterans and their families have access to the quality services they have earned and deserve.  That is why he supported the bipartisan Senate legislation to help rectify the systemic issues in the VA health care system and address the excessive wait times veterans have faced when trying to schedule an appointment with VA doctors.  The legislation accomplishes this by giving patients the option to seek care at community health centers, military hospitals, or private doctors when wait times or distance to a VA facility are too great, authorizing emergency funds to hire new doctors and nurses, authorizing leases for 26 additional VA facilities, and giving the VA Secretary the authority to dismiss senior executives for poor job performance while safeguarding against political or scapegoat firings.
As a member of the Appropriations Committee, he helped pass the largest veterans budget in history in 2014, which significantly improved resources to process disability claims and treat Traumatic Brain Injury and Post-Traumatic Stress Disorder for those returning from Iraq and Afghanistan.  Reed also helped pass the Post-9/11 G.I. Bill, providing better tuition benefits to veterans and their families for college and job training after their service.
Senator Reed knows that we ask a great deal of those in uniform and their families and he is committed to making sure they are not left behind.
Agriculture
Rhode Island is one of the nation's leading states in the growth and development of small, local farms.  The U.S. Department of Agriculture found that the number of farms in Rhode Island increased nearly 45% between 2002 and 2012, from 858 farms to more than 1,220 farms averaging 56 acres in size.
The positive impact of these small and local farms is not limited to food production.  Buying locally-produced foods helps boost the state's economy, support local jobs, improve public health, and protect our environment.  Local farms not only increase Rhode Islanders' access to fresh fruit, vegetables, and dairy products to support healthy eating, but they also help to preserve the beauty and character of Rhode Island's open spaces.
Senator Reed has worked hard to promote policies that support small farmers, farmers' markets, and local food systems.  He has sought to increase access to local, nutritious, and sustainable Rhode Island-grown food, and to ensure that Rhode Island family farmers and their employees remain competitive and productive.
Senator Reed also believes that local family farmers deserve greater assistance.  He has long advocated for saving taxpayers money and reducing the deficit by reining in federal farm subsidies for big agribusiness, while also making sure these subsidies are available to the small and medium-sized farms that need it most.